When asked if he would officially join the party on April 30, 2015, when he announced his candidacy, Sanders said, "No, I am an independent who is going to be working with the —" cutting himself off mid-sentence. (Source)
I've read a good deal from Bernie Sanders' supporters about how the Democratic National Committee (DNC) and especially its chair, Debbie Wasserman Schultz, are undermining his campaign.
There are two questions here. The first is whether Democratic Party leaders are neutral between the two candidates. Given Sanders' history as an independent, even as one who openly chastised Democrats, and his unwillingness to share either his time or his fundraising with candidates for other offices, I see no reason to think that leaders would be much sympathetic to his campaign. The second question is whether the Democratic Party has treated him unfairly in their official role. Sanders' supporters certainly say they have. I did some digging, trying to determine exactly what their allegations were.
So far as I can tell, they boil down to these:
1. The DNC lined up super-delegates to support Hillary Clinton prior to the Iowa caucuses.
I can find no evidence that the party itself was involved, only the fact that the majority of the Democratic super-delegates -- who are Democratic office holders and party leaders -- came out for Hillary Clinton early in the campaign.
The next obvious question is why? Surely there was something underhanded about that?
Actually not. Hillary Clinton has been a member of the party for several decades, has served as a Democratic senator, and has criss-crossed the country raising money for candidates for Congress, Governor and other offices. Bernie Sanders on the other hand, has been a lifelong Independent, only lately joining the Party to advance his run for President. He has not been well regarded by his colleagues in Congress, though he has served for over 25 years. When one of the best-known fighters for liberal ideals, Rep. Barney Frank, speaks out against Sanders, liberals listen.
"Bernie alienates his natural allies," then-Rep. Barney Frank (D-Mass.) told the Los Angeles Times just months after Sanders first took federal office. "His holier-than-thou attitude — saying in a very loud voice he is smarter than everyone else and purer than everyone else — really undercuts his effectiveness." -- Barney Frank (D), Mass
Taking a look at the most liberal members of the House and Senate, who are they supporting?
Of the eight most liberal senators, only one has endorsed Bernie Sanders. That senator is Sanders himself. Five have endorsed Hillary Clinton. Two have not committed.

Of the twenty-three most liberal representatives, only two have endorsed Bernie Sanders. Seventeen have endorsed Hillary Clinton and four have not committed.
Perhaps Bernie Sanders does not have superdelegate support because his long-term colleagues do not have the same rapport with him they have with Hillary Clinton? Perhaps it's not nefarious, they just don't like him.
2. The DNC temporarily cut off the Sanders campaign from its voter databases.
One of the advantages of campaigning as a Democrat (instead of an Independent) is access to the extensive voter databases maintained by the DNC. In December, a software glitch allowed Sanders' staffers access to Clinton's campaign database.
The Sanders team, which consisted of four people, ran multiple searches in Iowa, New Hampshire, Nevada, South Carolina and about 10 March states, including Florida and Colorado. In Iowa and New Hampshire, the Clinton campaign ranked voters on a scale of 1-100 for turnout, enthusiasm and support, the senior Democrats said. The Sanders campaign ran two searches: "Show me all the Clinton people rated higher than 60" and "Show me all the people rated less than 30." This would be a key way of knowing who Sanders should target in the final weeks before voting: Ignore those above 60, while focus on those below 30, because they are looking for a Clinton alternative and might be open to Sanders. (Source)


When the breach was discovered, the Party immediately cut off the Sanders' campaign's temporary access to the database. We in education might call that a natural consequence.
"This was not an inadvertent glimpse into our data, not a mistake," Clinton campaign manager Robby Mook said. "They made 25 intentional and targeted searches of our data." (Source)
The Sanders campaign sued, claiming the suspension was unfair. Thus began the allegations from Sanders' supporters that the DNC is attempting to undermine their campaign. Database access was restored in less than 48 hours, once the breach had been fixed, but the lawsuit continued.
3. Democratic debates were limited by the DNC and deliberately scheduled during low viewer times.
In May of 2015, the DNC announced 6 debates would take place during the primary season. This is indeed a low number, given the numbers of primary debates in recent years. By contrast, the Republican Party scheduled 12 debates. More debates -- and the timing of the debates to maximize viewership -- tend to help lesser known candidates and can disadvantage the better known ones.
The Sanders campaign complained there were too few debates and that they were scheduled on evenings when viewership would be depressed. As a virtual unknown when he entered the race a year ago, Bernie Sanders stood to gain by the higher visibility. Hillary Clinton however would reap little advantage from the debates.
Under pressure from the Sanders campaign, the DNC added additional debates, bringing the total to 10. Some were scheduled on Saturdays against the Sanders campaign wishes. Yet viewership was high, though not nearly so high as the corresponding Republican debates. Those however, broke viewership records for all time. Given the number of candidates (17) and the anticipation of what kind of outrage one or another might spew, their viewership brought in not just politicos, but all the entertainment value one might expect from the World Wrestling Federation (WWF).
The assumption that it was the DNC limiting debates to thwart Sanders and elevate Clinton assumes that the Clinton campaign had no say of its own over the debate schedule. Keep in mind that incumbent presidents (such as Obama in 2012, Bush in 2004 and Clinton in 1996) never agree to participate in debates. Why should they? For similar reasons (wide familiarity), Hillary Clinton's campaign may have demanded a minimal debate schedule. The Party cannot schedule debates that the front runners refuse to attend.
In any case, it hardly seems that Bernie Sanders has lacked for exposure. A year ago, only those who followed politics closely or lived in Vermont knew him. Today nearly everyone knows his key contentions: that millionaires and billionaires have rigged the game, that there should be higher taxes on the 1%, that tuition should be free, and that the ACA should be scrapped and replaced with single payer healthcare.
4. The Sanders campaign has been all but ignored by the media.
Though I'm not sure how this situation could have been orchestrated by the DNC, it is an oft stated complaint. The Sanders campaign has done an incredible job of using social media to attract record numbers of followers in a relatively short time. Rallies are packed with enthusiastic crowds and my social media pages certainly don't lack for posts from his supporters. He has ridden a wave of attention in spite of less "free media" than Hillary Clinton enjoyed.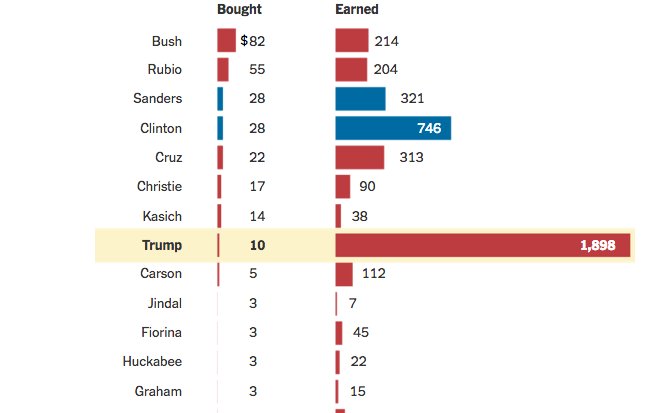 But articles I have read on this subject tend to compare Bernie Sanders' free media with Donald Trump's. Trump has exploited the free media angle better than any candidate before him. Compare Sanders' $321 million worth of free media attention with Trump's nearly $2 billion and it looks (and is) out of whack. But compare him to the front-runner, and as of March 15th, Clinton had twice the free media as Sanders. Still a lot, but Sanders has enjoyed the 3rd most of all the candidates (both parties) and 20 times more than the Democrats' third place candidate, Martin O'Malley.
The Trump attention has been obscene but I'm finding it hard to believe the DNC is responsible for that.
5. The DNC rigged the primaries in Arizona and Nevada.
The Arizona primary on March 22nd was a disaster. Voter rolls were wrong, with lifelong Democrats listed as Independents. The number of polling places in Maricopa County (notorious for its nasty sheriff Joe Arpaio) were cut from 200 (in 2012) to just 60, causing voters to wait hours in long lines to cast their votes. The worst abuses were in Hispanic neighborhoods, depressing that portion of the vote. Additionally, provisional ballots were given to thousands who came to vote but were told they were not eligible. Some of those ballots have allegedly been destroyed already.
Mayors, the Governor, and legislators are all calling for an investigation into what is being called voter suppression in Maricopa County. The Republican county recorder (Helen Purcell) has responsibility for elections in the county. The Sanders campaign has asked for a do-over of the election. The US Attorney General Loretta Lynch has opened an investigation.
In Arizona, the results were 56% Hillary Clinton and 41% Bernie Sanders. Doubting the legitimacy of the results is reasonable. However, polling just before the election showed voters leaning 50% to Hillary Clinton and 24% to Bernie Sanders.
The primary in Arizona may well have been an omen of things to come, given the levels of now legal voter suppression since the overturning of the Voting Rights Act by the Supreme Court. We all should be alarmed.
But when discussing this horrific situation, the Sanders followers I know have jumped to the conclusion that the DNC manipulated the situation. There's no evidence that the Democratic Party had anything to do with this. In any case, why would those who prefer Hillary Clinton want to suppress the Hispanic vote?
As for the Nevada caucuses, there were widespread reports of irregularities at caucus locations around the state. Clinton won there as well, though Sanders has carried the majority of caucus states (8 of 12). Curiously though, when I searched for Nevada caucus irregularities, my feed was full of Republican caucus complaints, not Democratic. I have some concerns about caucuses in general -- done well and according to the rules of neutrality in some places, much too lax in others -- but can't separate out the individual social media complaints from systemic problems. There was a recount, which confirmed the original results, but that doesn't prove one way or another whether the caucuses were conducted fairly.
I have heard the charges of unfairness so regularly over the past several months that I had to investigate on my own. Based on these five complaints, I'm not convinced.