The 4th Amendment is perhaps the most violated and least understood.
The right of the people to be secure in their persons, houses, papers, and effects, against unreasonable searches and seizures, shall not be violated, and no Warrants shall issue, but upon probable cause, supported by Oath or affirmation, and particularly describing the place to be searched, and the persons or things to be seized.
In 1791 this language was pretty clear. It referred to physical searches of your person, house, papers "and effects". Yet while Courts have tended to elevate the 1st Amendment protections, keeping them current with modern technologies, not so for the 4th. Our courts have tended to loosen our 4th Amendment protections while zealously guarding free speech and freedom of the press.
Gradually, the courts approved searching your possessions without probable cause if they were in your trash can or in your locker at school. It became legal to search your body and possessions without reasonable suspicion or probable cause before boarding a plane or entering a public building. Hidden video cameras that track your every move on the street, in stores or in public buildings are now permitted. And on the Internet, websites are permitted to track you, recording your behaviors and planting "cookies" in your computer. In fact, the courts allow nearly everyone but the police to search you at will. And even if the police perform an illegal search, you have no legal recourse. They can't use the evidence at trial but you as the violated individual have no redress.
The latest assault on search and seizure protections is mandatory drug testing (urinalysis) for individuals applying for public assistance. Already many private and public employees have allowed this highly invasive form of search and explain that if it can be done to them, it should be done to others. Some pipe "If you don't have anything to hide, there's no objection." An interesting rejection of the 4th Amendment's protections
in toto
.
The erosion of privacy rights guaranteed in the 4th Amendment ought to matter to everyone. There is nothing more terrifying than a more powerful entity -- government, big business, your employer or even your nosy neighbor -- able to cross into your personal space and rob you of your privacy and dignity. We will soon see widespread DNA testing for whatever reasons they concoct to use the technology and create the database. These invasions are usually sold as ways to make us feel more secure.
As the colonists were expressing their grievances and rallying for a revolt against the British, Benjamin Franklin told the Pennsylvania Assembly in 1775:
They who can give up essential liberty to obtain a little temporary safety, deserve neither liberty nor safety.
This is precisely the sentiment of the 4th Amendment.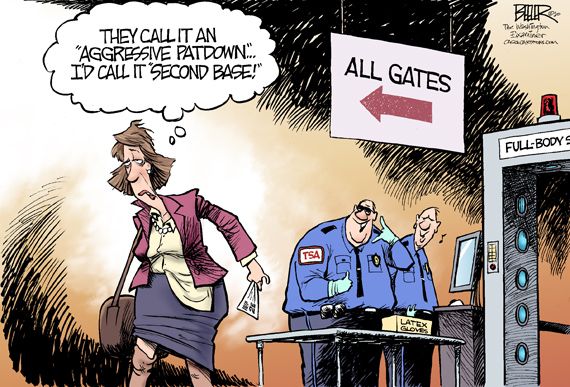 Yet sadly, whether it involves students in schools, employees in the workplace or citizens going about their daily business, we have so generally accepted violations of our privacy that she who speaks up is quickly shouted down. Why shouldn't government be able to spy on citizens? Why shouldn't businesses be able to spy on us? Why shouldn't a TSA officer be able to photograph you nude or grope and fondle you?
If even a fraction--perhaps 10%--of Americans were willing to speak up and challenge incursions on their personal privacy, the trend to ever more invasive surveillance and searches might be halted. But alas, I hear no one in education speaking up for student rights and no one but the ACLU and a few of us crackpots speaking up for citizen rights.
Last year, I wrote about the appalling
collection and dissemination of very private information
about every student in Oregon and throughout the U.S. Yet there is no outrage and there has been no change. When the system was introduced, I was told by the Oregon Department of Education that mine was the only voice of concern. This is highly troubling.
Click here for a history of U.S. government surveillance
.